Hiragana for iPhone and iPod Touch,
Hiragana is a flash card application that goes to great lengths to make studying the japanese hiragana alphabet as intuitive and effortless as possible.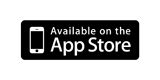 There is also a free version called Hiragana Lite
Try it for free
How it works

The hiragana flash cards are shown with the lower part obscured.
Sliding the card upwards reveals the pronounciation of the character.

Sliding the card sideways reveals the next or previous card in the deck.

The cards in the deck can either be ordered normally, or randomly shuffled by tapping the shuffle icon in the lower left corner.
Double tapping the card zooms it out and presents the option of discarding the character from the deck of cards being studied.
The settings screen lets you quickly indicate which characters you want to study.

Also check out the Katakana application
.